In one of my recent posts, I defined what I called "The Intelligent Data Plane" and the SW components that exist within a data intelligent processing "stack" to make data produced within an enterprise "useful".
Key components of the Intelligent Data Plane are automation of the processing of data items (email, documents), automation of analytic processes and transformation of data into useful formats for inclusion of data into "downstream" processes. The Intelligent Data Plane architecture also defines an intuitive user interface ability so that users can interact with data to identify data attributes to be used by the classification engine. In addition, the product should contain an ability to refine the performance of its classification and analysis algorithms through human review.
Alkymi.io is an exciting company doing great things in all of these areas of the Intelligent Data Plane architecture.

Intelligent Data Plane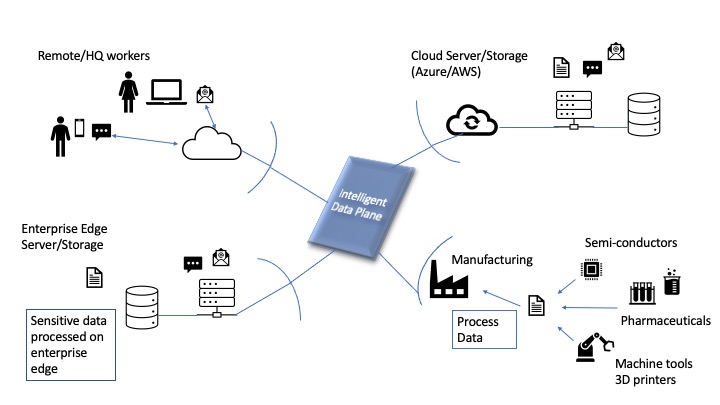 Alkymi.io: Accelerating Business Decisions
Alkymi.io, is a company located in New York City. It automates the processing of many types of data, unstructured file data as well as semi-structured email data. The platform eliminates the manual overhead of evaluating emails, documents, forms and the content they contain. It enables the integration of its automated data processing and classification engine with "downstream" processes as well.
Through an intuitive user interface, it allows business users to interact with data and the Alkymi.io system to build data models without requiring them to be data scientists. The system then identifies and processes documents and emails, delivering them to "downstream" workflows with minimal human intervention. The system eliminates untold hours of tedious and error prone manual labor and speeds the processing of data included in email and documents.

Deep Compliance and Financial Markets Expertise
The business team has extensive experience in the financial services and compliance market. They have recognized that automating manually intensive business processes will provide unprecedented efficiencies to previously tedious and error-prone operations.
Clear Technical Advantage
The technical team has deep expertise in document processing, machine learning and computer vision. Together, they have built an impressive platform that can evaluate email, documents within emails, and documents at rest to classify and normalize their business content. The system can then deliver the documents that are most relevant to pre-specified business criteria to the next step in a production workflow. The automated classification of relevant documents is extremely accurate and eliminates costly errors that could occur with manual review alone.

Using both machine vision and machine learning, Alkymi.io's extremely capable team has built a system that identifies and classifies data of interest to a business process user, extracts the relevant data into a structured payload (transforming it into a standard format for further processing). Allowing relevant data to be extracted and normalized into a database, the content and the documents that contain the data can remain associated for later retrieval.
Alkymi.io have named the latest version of their product "Patterns" after the concept of having a user define a pattern in the data that the platform can use to identify and classify documents.
Alkymi.io Patterns Overview
Alkymi describes their process in this illustration from the Patterns Product Brief (Alkymi.io/patterns). The interface allows a user to select relevant data from given documents and the system identifies the selected items as attributes to utilize for identifying documents of that "class". The documents are then analyzed against the patterns and labeled within the system. The combination of machine vision and text analysis is very powerful and differentiating from a technical standpoint.
Defining Patterns/Models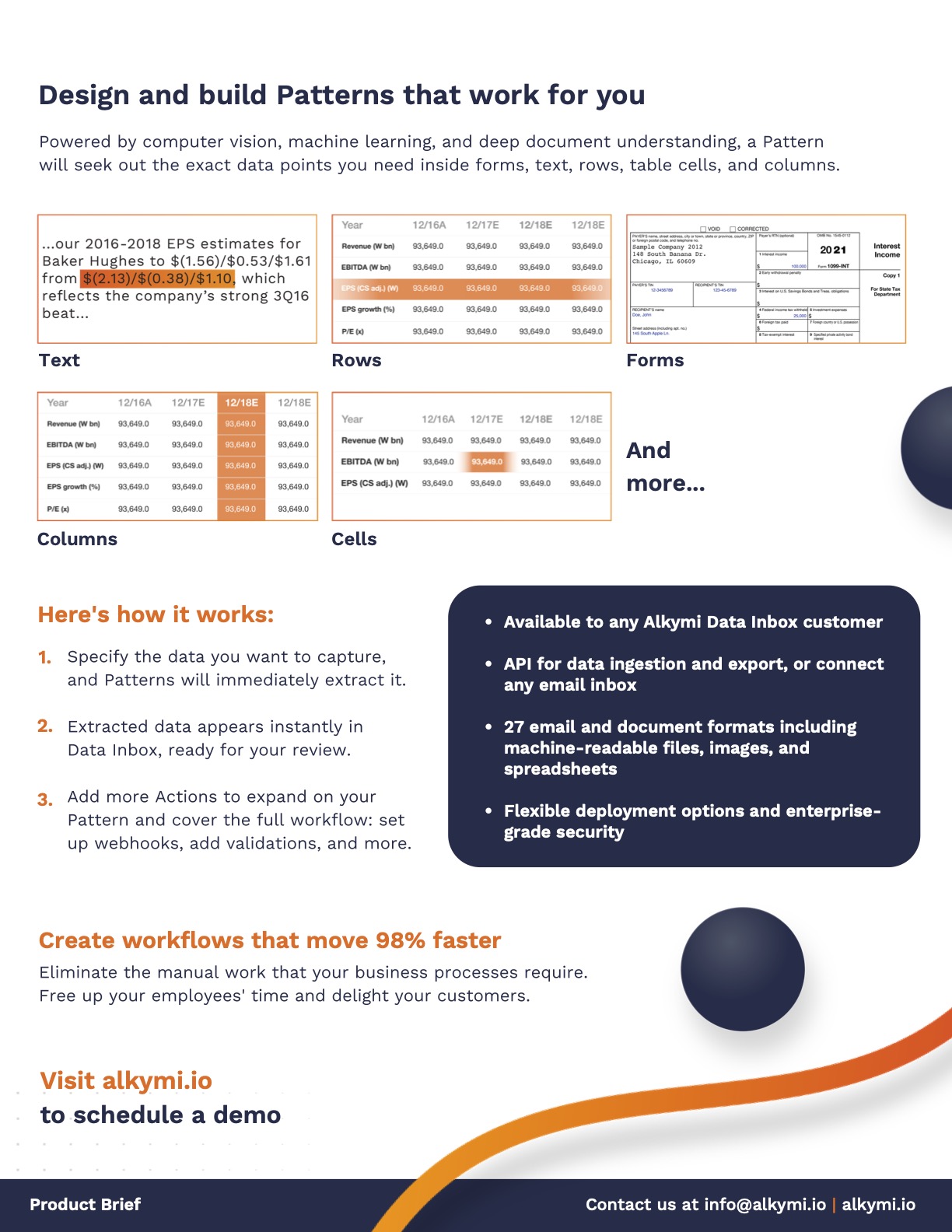 Applying Results to Workflows
Apply Pattern Results to a Workflow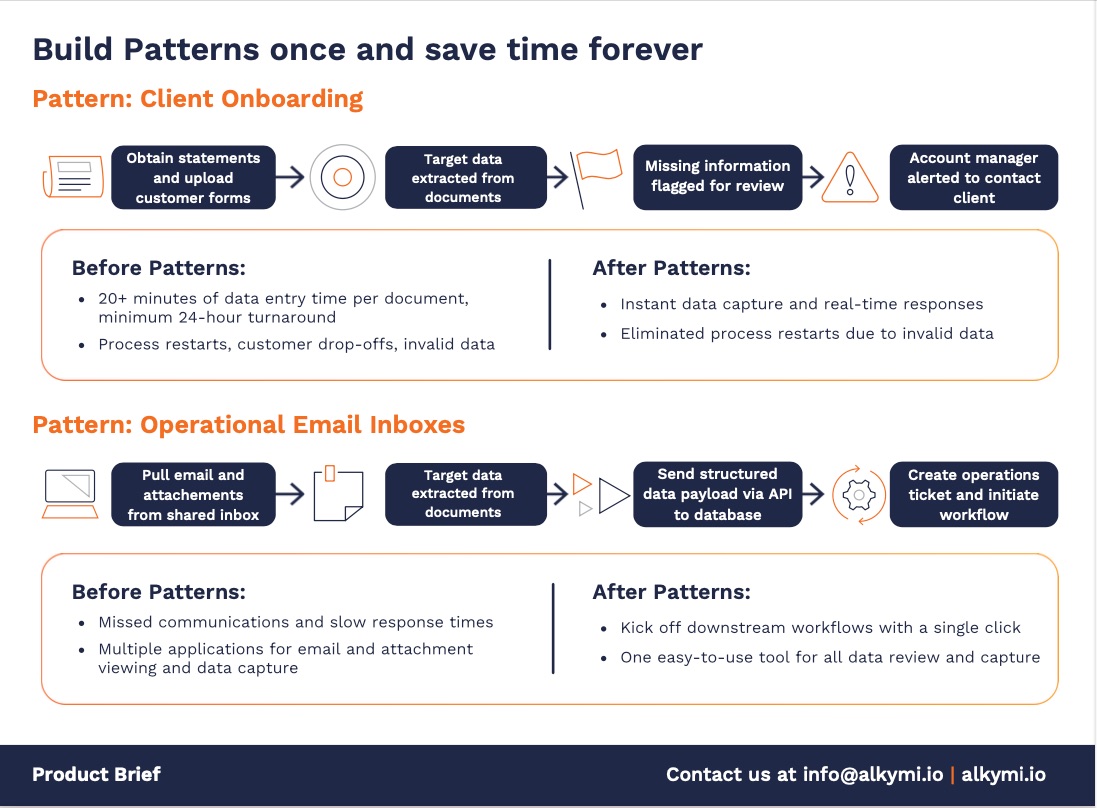 With the Alkymi.io system, data can be promoted to the next stage of the business process easily. This fits my thesis of a component within the Intelligent Data Plane architecture allowing data to be transformed and moved to another business process in a workflow. Data moves from an automated location or email box into the Alkymi.io system where it is processed according to the pattern defined by the customer. The useful data is extracted and moved along to the next stage of the process.
"Human in The Loop" – Refining Accuracy of Classification
One very important aspect of the system Alkymi.io's team built is the ability for users to refine the results of the automated classifications. By allowing users to mark and refine the data attributes used in a classification the system gets "more intuitive" over time.
Standard Document Automation Scenarios

Alkymi.io have built solutions that have automated the identification of many types of standard documents in various industry sectors.
Portfolio summaries
Performance reports
Fact sheets
Allocation exposure & sector reports
ESG related compliance documents
Visit Alkymi.io/solutions for more industry concentration areas.
Summary
Alkymi.io is an exciting new company building a second-generation data analysis platform (a generation ahead of other vendors). It incorporates an intuitive interface to allow data to be collected and categorized against the criteria important to business users. This eliminates the tedious and error-prone process of human beings having to open and read thousands of emails to determine which contain relevant documents or data. The SW also meets important criteria that was defined in the Intelligent Data Plane architecture of automating the flow of data into other workflow processes. Additionally, the system allows a human to refine the results of the data classifiers by reviewing results and adjusting the attributes being used for classification. This is a very impressive company and platform.